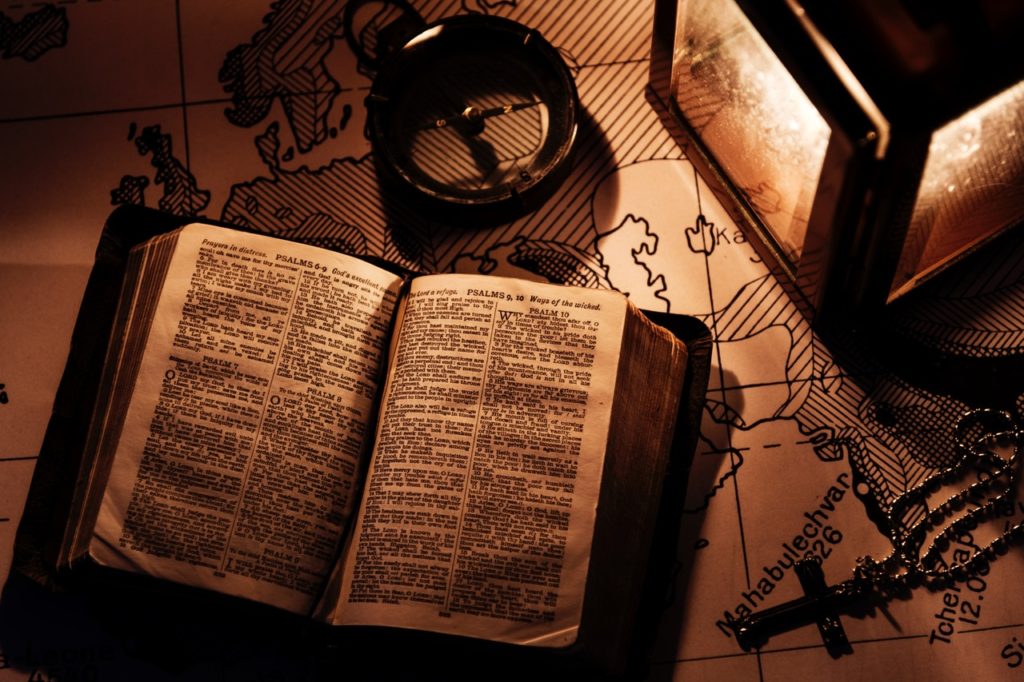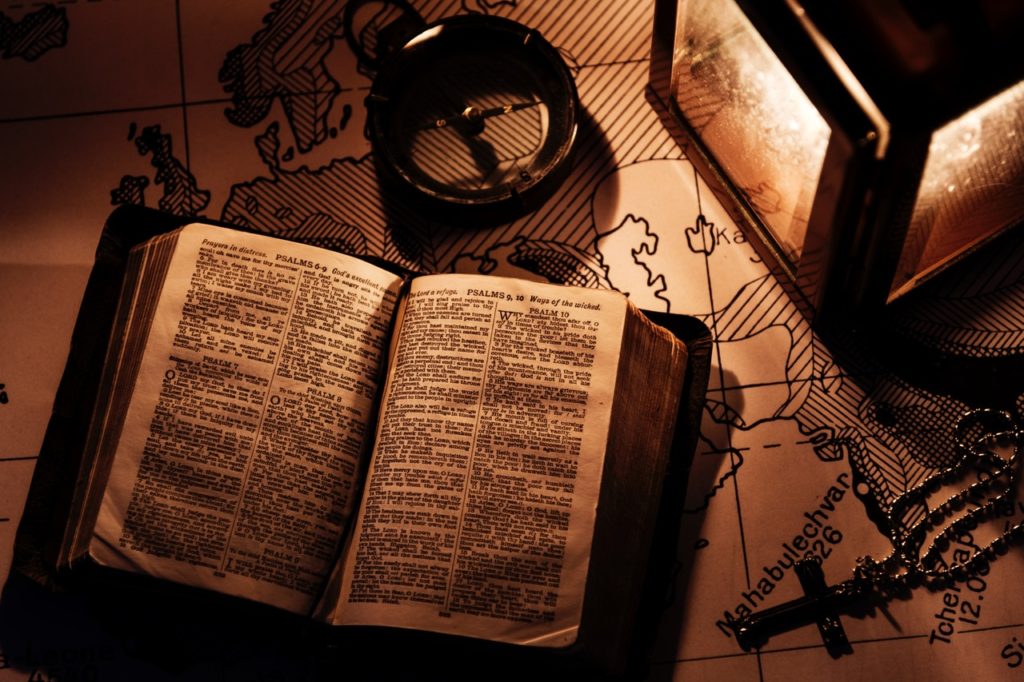 Romans 8:29 "For those God foreknew he also predestined to be conformed to the likeness of his Son, that he might be the firstborn among many brothers."
Matthew 6:33 "But seek first his kingdom and his righteousness, and all these things will be given to you as well."
Colossians 1:9-13
9 "For this reason, since the day we heard about you, we have not stopped praying for you and asking God to fill you with the knowledge of his will through all spiritual wisdom and understanding. 10 And we pray this in order that you may live a life worthy of the Lord and may please him in every way: bearing fruit in every good work, growing in the knowledge of God, 11 being strengthened with all power according to his glorious might so that you may have great endurance and patience, and joyfully 12 giving thanks to the Father, who has qualified you to share in the inheritance of the saints in the kingdom of light. 13 For he has rescued us from the dominion of darkness and brought us into the kingdom of the Son he loves,"
Let's begin with a story to establish some background. Lois Tverberg writes: (Excerpts from Reading the Bible with Rabbi Jesus, 2017. pgs. 26 – 27.)
"Captain, the weather radar has helped us a lot." These were some of the last recorded words on the black box of a Korean Airlines flight that crashed in Guam in 1997. The words were those of the copilot who was trying to communicate to the pilot that poor visibility had made it too dangerous to attempt to land by sight alone. This was his oblique [non-direct] way of saying that it was imperative that they recalculate their approach by relying on their scientific instruments. But thirty seconds later, the 747 crashed into the side of a mountain and more than 250 passengers were killed. For years the airline industry was perplexed by why certain countries like Korea had a surprisingly high record of plane crashes, despite the fact that the pilots had excellent training and state-of-the-art equipment." What may have caused this particular accident was believed to be due to a culturally dictated form of communication found among Korean pilots.
All modern commercial airlines generally employ two pilots per flight. One is the pilot who is principally responsible to fly the plane. The other is the co-pilot who reads and cross-checks all controls and watches for any negative situations during the flight that the pilot may not see or has overlooked. The idea is that both are able to point out a problem and together come up with an agreed upon course of action.
"What is common in some countries like Korea, is a stronger sense of hierarchy, where people honor those of greater status by carefully couching their words. To call attention to an error or an overlooked problem…is gallingly rude." This is an example of how cultural norms can and do have an impacting influence upon communication.
Unlike Korea, an American co-pilot would speak in a very direct manner without fear of offence and we agree that such speech would be proper in such a situation. But not so in other cultures. In 1990, a Columbian airliner crashed while flying into LaGuardia airport because the co-pilot was too polite to insist to ground traffic control that they needed to land immediately because they were critically low on fuel.
Misunderstandings like these can continue to be a problem unless we are able to not only understand what the words mean as defined, but also understand what the words reveal and imply in the context of the culture. From these stories we can see what some of the problems are that people of cross-cultures have when communicating. Some could say that a more obvious reason, other than culture, would simply be the differences in their languages. This of course is true when one person might speak Japanese, and another speaks French for example.
But this challenge can be overcome by being able to match word meanings from each language group through an interpreter who has a commanding knowledge of both languages. But this is only a partial solution in the communication matrix. Knowing the structure of a language is key but knowing how it is used within its culture is where we sometimes fall into error. Understanding the cultural background of the speaker is often just as important if we are to understand the meaning of the words being spoken.
Words are chosen because of the particular meaning of those words that are produced within the cultural experiences of the speaker. The holy scriptures were written at various times, in various locations, by various writers to a varying audience.
While we might think that the cultures are varying by time and place, and to some degree we would be correct, it should still be noted that all of the writers remained historically connected by a unique but uncommon culture. Noting the points of commonality, we have scholars who attempt to translate and interpret all of scriptures within these varying historical and cultural contexts.
Would this be wrong? No. It is actually a much more rewarding way to study and teach when we consider and include the cultural context. Specific language and cultural studies are valuable as they take into account the nuances of a particular period of time. So much of human history is divided into epochs. (NOTE: An epoch is less determined by time and more determined by the rise and fall of culturally centric kingdoms).
This interpretive method I support. However, it should be understood that while this focus is proper it is also limited. While a writer of scripture may have lived during a particular epoch of time, the Author of the Bible is over and outside of all time. Recognizing that the Author is of another culture is critical. The impact that this understanding had upon the completed manuscript (the Bible) is often misunderstood and understated in importance.
Good biblical interpreters will try to take into consideration the impact of culture upon the writer and the language of the book in order to gain a more accurate reading of the text. But while we look to gain insight through human language and culture, we are confronted by the fact that the Author (God) is of a completely different culture and God's culture is being brought to bear upon the culture of those writers! So, man's language and culture were being influenced by God's culture.
The Bible itself is a historical and didactic (teaching) document that spans a period of over 5,000 years. The Jews have this calendar year of 2019 as being the year 5778. Moses compiled data from the many generations before him which had been faithfully passed down by memory orally and then he added a current original history of his generation along with the details of building the Tabernacle and its forms of worship along with extended instructions for righteous living which included man's relationship to God, his fellowman and the caretaking of God's creation. Plus a few prophetic words thrown in throughout the Torah.
Culture played a huge role in the telling of the historical peoples of the Bible. The basic characteristics of culture are language, religion, behavior, political systems and environment (common food, music, dress etc.). Once again, I have to state that to properly interpret the Bible, we have to understand the culture of the writers.
This may seem contradictory to what has already been said but, one reality and challenge is that the focus of scripture is principally not for us to know the culture of the people of the book but to know the culture of the author of the book (Bible).
Now we are aware that the culture of the writers remained amazingly constant. The culture of the people of the book was under constant pressure to change and conform to the cultures around them from the earliest accounts of the Patriarchs through the time of the disciples!
Despite this pressure from without, the unique culture of the writers of scripture remained constant even when the characters changed, the penned revelations remained consistent and without contradictions. Even though thousands of years had passed in the telling, certain attributes within the culture of the leading characters remained amazingly and remarkably consistent as well.
Those Biblical characters were not stereo-types. Some were male and others female. Some rich and others poor. Some were kings and others were slaves. Some were notoriously bad and others almost without fault. Some lived in cities and towns while others lived out in the hills. Some were merchants and others were fishermen. Some lived in 1200 BC and others in 33 AD. Some lived in Canaan and others dwelt along the Nile in Egypt. Some lived in independence while others lived in foreign lands among their enemies. Some were sick and others well in body. And yet, over all of those thousands of years, being constantly exposed to other cultures; when we read the scriptures we find that within those histories, all of the writers from across the expanse of time and the variation of places wherein they lived, they were able to hold onto a uniquely peculiar and unchanging culture!
How was that possibly? Was it due to their being convinced that all other cultures were inferior? Was it due to their being isolated from the world and other divergent cultures surrounding them? Was it due to their resistance to change and their unrelenting dedication to their own traditions?
The consistency is explained by this simple fact. God, through revelation, revealed His culture to them. He called them to pursue His culture and make it a part of their own culture. So, what was carried through the millennium of time and kept their culture constant was accomplished by each generation attempting to conform to the unchanging culture of God.
Through every generation God continued to call the people to conform to His culture and what we witness, as we interpret the scriptures, is that same calling is upon this generation to take upon ourselves God's culture. The scriptures call us to transformation. Our culture is to conform to God's culture! Scripture calls 'God's culture' the 'kingdom of God or heaven'. But some may be more comfortable in knowing that taking upon oneself God's culture is conforming to the image of Jesus the Messiah.
---